2004 High Roof Ford Hearse
LTD rear kick-out. Deep, side-opening glass. LTD front.

4 Door Statesman Hearse with raised roof
Side opening glass. Caprice front and rear.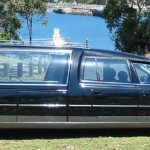 Extended Wheel Base Hearse
LTD front and body moulds. Deep glass tailgate to match the line of the curved, deep side opening glass. 2 cargo doors. Headboard partition with curtains. Stainless steel side boxes. Formica coffin tray with chrome slide-out rollers.

Statesman WH Stretch
5.7V8 motor. 1.8m extension. Full length side glass camouflaging 8 coach lights. Seats 6 in rear on full leather "J" seat and rear seat.

"S" class Mercedes
Seats 8 in rear.

Ford Fairlane Mourning Coach
Seats six passengers rearward with driver and passenger up front. Basic layout inside. This vehicle was built to pair up with a matching Hearse.