2005 Mercedes Vito Hearse
Side opening glass. Door either side to cargo area. Solid headboard with glass divider and curtains. Side skirts. Dual coffin tray. Tailgate glass to match the line of the side opening glass. Huge rear space to allow for large coffins and floral arrangements

Ford LTD Hearse
Deep side glass

2002 Ford LTD Hearse
LTD front, LTD rear kick-out, LTD body moulds and wheels. Deep curved side glass.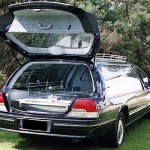 2002 Ford Mini-Hearse
Standard wheelbase with full-length side glass. 2 cargo doors, deep tailgate glass. Chrome, 2 rail floral rack. Fairlane wheels. Fixed, single coffin tray.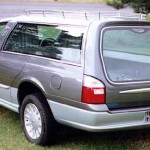 LTD Hearse, 1 metre extension
LTD Hearse
Showing coffin tray and pull-out rear roller. This is a standard feature on Hammond Hearses.
Side view shows open side glass and tailgate. This gives ease of access to the rear for arranging flowers.