Mini-Hearse
LTD front and rear kick-out. Fairlane wheels. Chrome, 2 post floral rack. Single coffin tray with extension to cater for 7ft. coffin. Full-length side glass.

LTD Hearse
Side opening glass, electrically operated with mechanical backup.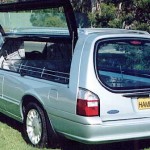 High Roof Hearse
LTD wheels, front and kick-out rear. Dual coffin tray at glass level. 2 cargo doors. Headboard partition with curtain dividers. Island vinyl roof surrounded by 2-rail chrome floral rack

Ford LTD Mini-Hearse (wheel base not extended)
LTD front and rear, body moulds and wheels. Chrome floral rack on roof with island vinyl. Will take a 7ft coffin. 2 cargo doors either side with storage boxes. Full length glass. Stainless side boxes and formica marble look coffin tray. Chrome rollers with pull-out rear roller.

LTD Ford Black Hearse
Side opening glass. LTD front and rear kick-out with LTD body moulds. Fairlane wheels with chrome wheel arch mouldings.